publicado el 13/12/2021 por Vaca Films
The thriller thriller CÓDIGO EMPERADOR, produced by Vaca Films, directed by Jorge Coira and starring Luis Tosar, presents its official poster. The film will hit theaters in Spain on February 25, 2022 by A Contracorriente Films.
The new collaboration between the popular three-time Goya Award-winning actor and the Galician production company is a revealing, contemporary thriller of intrigue inspired by the more hidden side of Spanish social and political reality.
Luis Tosar (Maixabel, Quien a hierro mata) is accompanied by Alexandra Masangkay (El Hoyo, 1898: Los últimos de Filipinas), Georgina Amorós (Élite), Laura Domínguez (La catedral del mar, Amar es para siempre), Miguel Rellán (Vergüenza, Tiempo después), María Botto (Malnazidos), Arón Piper (Élite, El desorden que dejas) and Denís Gómez (El vecino), among others.
Set in the upper echelons of power and espionage, CÓDIGO EMPERADOR is directed by Jorge Coira, winner of the Goya for Best Editing for El Desconocido, from a screenplay written by Jorge Guerricaechevarría.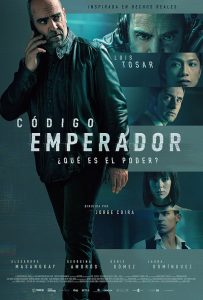 SYNOPSIS
Juan works for the secret services; in order to gain access to the villa of a couple involved in arms trafficking, he approaches Wendy, the Filipino maid who lives in the house, and establishes a relationship with her that will become increasingly complex. At the same time, Juan carries out other "unofficial" jobs to protect the interests of the country's most powerful elites, who have now set their sights on Ángel Gonzalez, a seemingly unremarkable politician whose dirty laundry he must find or "invent" with the help of Marta, the daughter of a well-known actor.
CÓDIGO EMPERADOR reveals through fiction a recognizable reality of recent Spain. In the words of Jorge Coira: "The world of espionage is one of the most powerful and fruitful contexts to explore extreme conflicts.
CÓDIGO EMPERADOR wants to enter, from the power of the thriller, into the reality of information agents: a world where the border between good and evil is diluted and where things are not always what they seem".
The new film by Vaca Films draws on reality to immerse us in the nooks and crannies of a system in which appearances are deceptive, lies are the order of the day and blackmail is the best bargaining chip.
CÓDIGO EMPERADOR is Jorge Coira's third fiction feature film after the award-winning 18 comidas and his debut feature El año de la garrapata. He has also directed successful TV series such as Hierro (the most watched Spanish series on Movistar) and Sé quién eres, as well as working as an editor on La Unidad and Hierro and the feature films La sombra de la ley and El desconocido.
Filming has taken place in cities such as Bilbao, Madrid, A Coruña, Budapest and Panama City. CÓDIGO EMPERADOR is produced by Vaca Films (Hasta el cielo, El desorden que dejas, La Unidad, Quien a hierro mata, El niño, Celda 211) and Proyecto Emperador AIE, in co-production with the French company Playtime, with the participation of RTVE, Netflix, TVG and with the support of ICAA (Ministry of Culture), Agadic and Programa Media.
CÓDIGO EMPERADOR will hit Spanish cinemas on 25 February 2022, distributed by A Contracorriente Films. International distribution will be handled by Netflix.
#CódigoEmperador