publicado el 01/02/2022 por Vaca Films
CÓDIGO EMPERADOR is the opening film of the 25th edition of the Malaga Festival, to be held from March 18 to 27. In addition, we inform you about the change of release date of this thriller produced by Vaca Films, directed by Jorge Coira and starring Luis Tosar. CÓDIGO EMPERADOR will hit theaters on March 18, 2022 by A Contracorriente Films.
The new collaboration between the popular three-time Goya Award-winning actor and the Galician production company is a revealing, contemporary thriller of intrigue inspired by the more hidden side of Spanish social and political reality.
CÓDIGO EMPERADOR introduces us to "a special unit of the National Intelligence Center, made up of several agents. One of them is Juan, an agent who is in the process of a personal, ideological and professional crisis," explains Luis Tosar. "In theory, they are in charge of watching over national security. And in the midst of all this investigation, they are immersed in a series of events that have less to do with national security than with safeguarding the image of the country," adds the actor.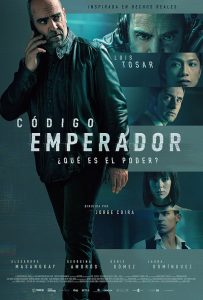 Luis Tosar (Maixabel, Quien a hierro mata) is accompanied by Alexandra Masangkay (El Hoyo, 1898: Los últimos de Filipinas), Georgina Amorós (Élite), Laura Domínguez (La catedral del mar, Amar es para siempre), Miguel Rellán (Vergüenza, Tiempo después), María Botto (Malnazidos), Arón Piper (Élite, El desorden que dejas) and Denís Gómez (El vecino), among others.
With screenplay by Jorge Guerricaechevarría and set in the upper echelons of power and espionage, CÓDIGO EMPERADOR is directed by Jorge Coira, director of the multi-award winning Hierro, whose two seasons have been a success with critics and audiences and has been awarded Best Fiction Series at the Forqué Awards.
Jorge Coira delves into the mechanics of power in the shadows, revealing through fiction a recognizable reality of recent Spain: "In recent years news about these dark worlds, the so-called 'State sewers', have begun to appear with some frequency. We wanted to investigate and go into that terrain to be able to talk about what is happening and that is opaque and hidden…", explains the director.
"Our goal has been to get deep into the ins and outs of power: in the economic, business, political, show business and sports world… CÓDIGO EMPERADOR puts a mirror to Spanish society," says producer Emma Lustres.
The new film by Vaca Films draws on reality to immerse us in the nooks and crannies of a system in which appearances are deceptive, lies are the order of the day and blackmail is the best bargaining chip. Information and disinformation, truth and deception, good and evil… terms that sometimes touch, cross and coexist to the point of confusing their limits.
Filming has taken place in cities such as Bilbao, Madrid, A Coruña, Budapest and Panama City. CÓDIGO EMPERADOR is produced by Vaca Films (Hasta el cielo, El desorden que dejas, La Unidad, Quien a hierro mata, El niño, Celda 211) and Proyecto Emperador AIE, in co-production with the French company Playtime, with the participation of RTVE, Netflix, TVG and with the support of ICAA (Ministry of Culture), Agadic and Programa Media.
CÓDIGO EMPERADOR will hit theaters on March 18, 2022 distributed by A Contracorriente Films. International distribution will be handled by Netflix.
SYNOPSIS
Juan works for the secret services; in order to gain access to the villa of a couple involved in arms trafficking, he approaches Wendy, the Filipino maid who lives in the house, and establishes a relationship with her that will become increasingly complex. At the same time, Juan carries out other "unofficial" jobs to protect the interests of the country's most powerful elites, who have now set their sights on Ángel Gonzalez, a seemingly unremarkable politician whose dirty laundry he must find or "invent" with the help of Marta, the daughter of a well-known actor.