publicado el 07/07/2023 por Vaca Films
JUMP!, starring Tamar Novas ("El desorden que dejas", "Fariña", "Mar adentro"), Marta Nieto ("Tres", "Madre", "Feria") and the young talent Mario Santos ("Alba", "Cuéntame cómo pasó") presents its trailer and final poster. This is Olga Osorio's feature film debut, with a script written by Osorio herself and Araceli Gonda ("Hierro"), which will hit theaters on September 1st, distributed by A Contracorriente Films.
JUMP! also stars Rubén Fulgencio ("El universo de Oliver", "El pueblo"), Irene Jiménez ("La caza. Monteperdido") and Saúl Esgueva ("Antidisturbios"). The cast is rounded out by two veteran and well-known performers: Goya winner Mabel Rivera ("Rapa", "Mar adentro") and Goya nominee Manuel Manquiña ("Arde Madrid", "Airbag").
JUMP! is an imaginative and touching adventure and an original bet for family entertainment.
SYNOPSIS
Óscar and Teo (13 and 10 years old) are two brothers, very different from each other, who live in a modest neighborhood apartment. Teo is a footballer and a bit naughty, Oscar a know-it-all who prefers to spend his summer afternoons studying the theory of relativity. In reality, they each deal in their own way with the disappearance of their mother, a promising scientist obsessed with wormholes.
The germ of JUMP! is found in the short film "Einstein-Rosen", by Olga Osorio, which obtained great national and international success and participated in more than 240 festivals around the world, winning awards in many of them.
According to its producer Emma Lustres, from Vaca Films, it is "a very emotional, entertaining, imaginative and fun film, which aims to surprise, thrill and entertain children and adults with a close, original and, above all, very tender story. It is a challenge to tackle a type of film of which there are few examples in the audiovisual industry in our country".
For Olga Osorio, JUMP! "is about the relationship between two brothers, probably one of the most special that exist, and also about how difficult it can be to understand and communicate with the people we love the most. The ingredient of time travel allows us to add the "what if" component and make a slight exercise in nostalgia.
Filmmaker, screenwriter and photographer Olga Osorio makes her debut in fiction feature films after a fruitful and applauded career in the world of short films: "reStart", "Mouras", "Tinder Time", "Cuestión de autoridad" and "Einstein-Rosen", the seed of JUMP!, are some of her award-winning titles in festivals around the world. Screenwriter Araceli Gonda co-wrote the film's script. Her work as a screenwriter in the award-winning series "Hierro" stands out.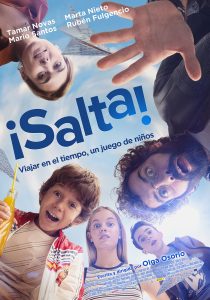 The shooting of JUMP! has been developed throughout September and October 2022 entirely in Galicia, in the surroundings of the city of A Coruña.
The film is produced by Vaca Films and Quien a hierro mata AIE, with the participation of Prime Video, RTVE, TVG and the support of ICAA (Ministry of Culture), Agadic (Xunta de Galicia) and the Media Program.
JUMP! will hit theaters in Spain on September 1st, 2023, distributed by A Contracorriente Films. International sales will be handled by Playtime.