publicado el 18/12/2020 por Vaca Films
SKY HIGH , the new and exciting thriller of robberies directed by Daniel Calparsoro and produced by Vaca Films, has been released in cinemas in distributed by Universal Pictures International Spain.
SKY HIGH stars Miguel Herrán (Goya 2016 for Best New Actor for A cambio de nada and starring in Money Heist and Elite), Carolina Yuste (Goya 2019 for Best Supporting Actress for Carmen and Lola), Asia Ortega (Tu Hijo) and Luis Tosar (Quien a Hierro Mata and winner of 3 Goya Awards for Cell 211, Te doy mis ojos and Los lunes al sol), seconded by Patricia Vico (To Steal from a Thief), Fernando Cayo (Money Heist), César Mateo (El accidente) and debutants Richard Holmes or rapper Ayax, among others.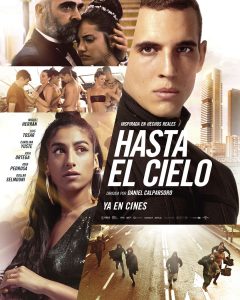 SYNOPSIS
Ángel is a boy from the suburbs of Madrid whose life will change forever the day he meets Estrella in a discotheque. After a fight with Poli, the girl's possessive boyfriend, he discovers that Ángel has a talent for getting into trouble and, more importantly, for getting out of them. That's why he encourages him to join his band of robers who have the entire police force of Madrid in check.
Ángel's ambition will make him dive into a pyramid of robberies, easy money and shady deals, which will take him from Madrid to Ibiza. His skill will also make him the protégé of Rogelio, a capo who controls the black market in the capital, and Sole, his daughter, will be infatuated with him.
Ángel's climb will be unstoppable, and he will soon become one of the country's most wanted robbers. And as the police siege intensifies, he will have to decide between Sole or the love of his life, Estrella.
A journey that began in the humblest of suburbs and has as its goal the highest thing: the sky.